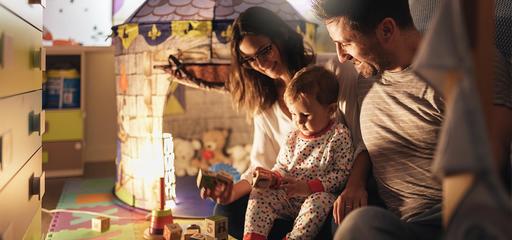 The Power of Family Game Night: How Games Can Help Your Toddler Grow
If you're thinking about spending quality time with your family, but hiking and finger-painting have become daunting, try planning family game nights.
Have you seen those perfect family photos where parents gather around the table, hugging their children and playing monopoly? Yeah, the game nights with your toddler might not be as perfect and smooth as pictured in such stock photos, but it certainly is going to be a lot of fun.
Not only are family game nights fun and entertaining for the whole family, but they also provide an opportunity for your toddler to learn essential life lessons. Family game nights can be a powerful tool for helping your child develop social, emotional, and cognitive skills.
We already know that toddlers learn best through play, but regular, scheduled game nights can help them learn how to take turns, share, follow the rules, and problem-solve.
We want to discuss the benefits of family game nights for toddlers and offer some game ideas that all family members can enjoy. So gather your family around the table and get ready for some fun!
What are the benefits of family game nights for your toddler?
Playing games is an enjoyable way for families to spend time together and engage in activities that build relationships, creativity, and knowledge.
For toddlers, games can help with language, concentration, social skills, and problem-solving. Some games help children practice spatial recognition and improve hand-eye coordination skills.
Here's what you should know about the benefits of family game nights for kids:
Playing board games and interactive games helps increase the level of oxytocin, the "cuddle hormone." This happens due to the bond that family members share and create during the playful time.
Regular game nights can be a part of your toddler's schedule and your way of spending quality time with children. Various game options ensure that everyone has quality time together without distractions.
Playing games can improve communication. In 2019, National Literacy Trust interviewed 4,626 young adolescents for a video games survey. Their research showed that video and mobile games help young people build social connections and strengthen their communication skills.
Physically interactive games can improve fine motor skills. Games like puzzles or catches require physical coordination and help build motor skills. These skills will be essential for school readiness and healthy adult life.
Regular family game nights can create a fun learning environment. Again, toddlers learn best through play, so it's essential to create an environment that supports them through their development. Traditional board games can teach them math and reading; Trivia games help improve general knowledge in a fun way, and more.
Playing games can give your children a sense of accomplishment. When toddlers win or complete a game it builds their sense of accomplishment, boosting their confidence and self-esteem.

Here are a few games you can try for your next family game night
Candy Land is a classic board game for young audiences. Your toddlers will love racing around the rainbow path and the colorful characters.
There's no reading required, and it only takes 15 to 20 minutes to finish the game. It's a perfect way to spend time together when planning an indoor activity that your toddler will love.
It's another classic game, but this time it's all about counting and math. It's perfect for toddlers since it's an engaging game that teaches them counting, addition, and subtraction.
You can also improvise and try educational mobile games similar to Hi-Ho Cherry-O.
If you like playing charades with your friends, you'll love playing animal charades with your toddler. From making animal sounds and movements to watching your toddler trying to imitate a bunny - it's all an enjoyable and unforgettable time spent together.
We all love playing Simon Says, and we can adapt the game to be fun for kids too. It's a classic game that has been entertaining children since the 70s. Grab a little printable full of ideas for this game, and get ready to have fun.
Pictionary is a wonderful game that lets your children practice their creativity, problem-solving, and drawing skills. You don't have to buy the board game; get a drawing pad and some markers and have fun.
Childhood development experts say playing board games can positively impact a toddler's brain development. According to a study by the University of Wisconsin-Madison, playing board games can help toddlers improve their executive function, which is essential for learning, problem-solving, and planning ahead. Another study found that playing board games with preschoolers can enhance their memory, as well as their attention span and decision-making skills.
So how can we make family game nights happen, how often should we do it, and how to make it work?
We recommend setting aside at least one night per week for family game nights. It doesn't have to be a long session – even a few minutes of game time can make a big difference! Remember that quality matters more than quantity, so focus on playing together as a family rather than trying to get through too many games in one night.
By following these tips, you can make sure that your family game night is enjoyable and successful! With the right preparation and attitude, the game night can become a cherished tradition in your family.