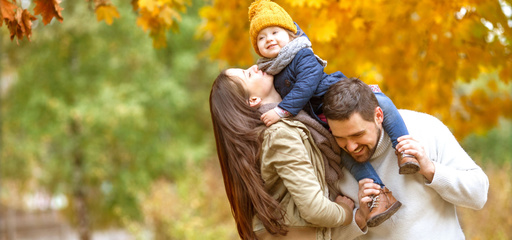 Do these 9 activities to create memorable fall for your toddler
Seasons changing is a meaningful process for most of us. We have the urge to change ourselves, update our wardrobes, revise our daily menu, and more. It's only natural to change yourself and your daily activities with the changes in seasons.
Fall is already here, and since it's still quite warm in most places, we have a little bit of time to prepare ourselves and our toddlers for the leafy, chilly, and rainy season.
We can leave pool parties, summer vacations, and water balloon fights for the next year. Now it's time to cozy up in front of a bonfire and think about the Fall fun time you and your toddler can have together.
We've gathered a few activities you can try with your baby that are sure to create long-lasting memories.

9 Activities for long-lasting fall memories with your toddler

Take a trip to an apple orchard and pick apples
Plan a little trip to an orchard for apple-picking with your toddler. While it's an opportunity to spend some time with your kids in nature and munch on delicious fruit, you can also use this activity for learning purposes.
Here's what we love the most about orchard trips:
Such activities expose children to nature, agriculture, and science; They can learn about farming, planting fruit, and how farmers care for various fruits and vegetables;
Children can learn where their food comes from;
They can munch on tons of apples that are rich in fiber and antioxidants.
Some orchards have hayrides, corn mazes, and other fun activities. So plan this fall activity and don't forget to take lots of photos.
Have a bonfire and make the best of the outside time
It's still quite warm for hiking and other outside activities. Make the best of the warm weather and plan a little bonfire in your backyard or go to a designated area.
Find a cozy place to set things up, and don't forget to take warm sweatshirts. You can tell stories or read books to your children.
You can just spend a relaxing evening with your toddlers or add some educational value to the activity too:
You can teach your kids about fire safety;
They can learn how to build fire safely, acquire survival skills, and more;
Watching a bonfire can be relaxing and soothing. You can create a wonderful fall ritual for yourself and your family.
Find the nearest fall festival in your area
No matter where you live, you're sure to find a place that offers traditional fall festivals, harvest festivals, and other activities.
Here's the list of the best fall festivals in the US for 2022. You can explore and pick the one that you find the most exciting.
Attending a fall festival can provide exercise, but it's a great way to reduce stress and spend some quality time with family.
Cook classic fall dishes with your children
The smell of cinnamon muffins, apple pies, and pumpkin cookies is all over the place in fall. It almost makes you want to grab the pumpkin puree and start baking yourself.
So why not do some fall baking with your children?
Aside from the fact that you'll have sweet treats to share with your family, you can spend time with your toddler and let them help you around the kitchen.
Child development experts talk a lot about the benefits of cooking with children. Letting your children help around the kitchen can:
Help them develop life skills;
Improve their taste palette and make them more interested in various foods;
Help them lean towards home-made cooking, which is beneficial for their gut health and future attitude towards food;
Improve their fine motor and hand-eye coordination skills.
Do a fall photoshoot
Fall photoshoots are always beautiful, with the colors green, red, and yellow mixing in the background.
If you feel it's time to add some professional photos to your albums, hire a professional photographer. But remember, you don't need a pricey camera to create and capture memorable moments. You can learn how to do DIY fall photoshoots yourself. And don't forget to use the fall colors to your advantage.
Watch fall and Halloween movies together
If you haven't tried implementing a movie night before, we advise you to try it. You can add movie nights to your toddler's routine and spend time with the whole family.
Make the couch cozy, don't forget to throw a few more pillows or blankets there, prepare some hot cocoa or tea and get some snacks. You can make the night more fun by building a little tent in the TV room.
Here are some awesome fall movies you can watch with your children.
Add Fall-themed books to your reading time
Books can celebrate fall as much as the movies can. If your toddlers like bedtime stories or picture books at reading time, we advise you to try reading some fall-themed books.
If you have no idea where to start, we advise you to read these Pre-K books:
Watch a meteor shower
We wanted to end this list with the most enchanting experience for children. Kids are always fascinated with space, planets, and stars. They're naturally interested in a lot of things, but statistics show that children especially love hearing and learning about space.
While the best time to watch meteor showers is in August, you can still catch a few of them flying in October. Fall meteors are as fascinating as summer meteors.
Lay down some blankets in your background, cozy up, and wear something warm; Lay down on the blankets and just watch the night sky light up with falling meteors.
Encourage your children's natural interest in space and help them build a love of learning science and much more.

Every season is an opportunity to introduce something new in your and your child's lives. The list of fall activities doesn't end here, but we advise you to try at least one of them.
Create memorable moments and new fall traditions along the way.