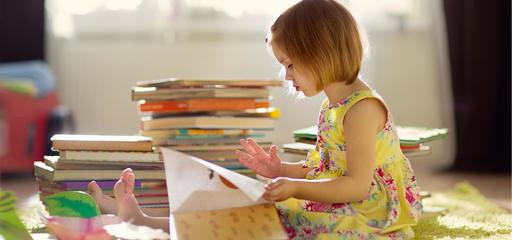 What to read to your preschooler
"I have a passion for teaching kids to become readers, to become comfortable with a book, not daunted. Books shouldn't be daunting, they should be funny, exciting, and wonderful; and learning to be a reader gives a terrific advantage."
(Roald Dahl, British novelist, short-story writer, poet, screenwriter, and wartime fighter pilot.)
Do you remember how you learned to speak? How many tries did it take you to say your first word? What influenced you?
You probably mimicked the sounds your parents, family members, caretakers, and others made. Of course, that's how children learn new things, especially the language - one of the most powerful tools in the history of humanity.
Did you know that reading is one of the most efficient and productive practices of mastering language proficiency?
As much as it is essential and enjoyable to read as an adult, today we want to talk about the importance of books for toddlers.
Jaclyn Heinrich, Provisional Psychologist at Child Development Clinic, shares some of the long-term benefits of reading with your children:
Improves cognitive abilities
Enhances vocabulary, literacy, and numeracy
Enhances empathy and social skills
Is a great bonding experience for parents and kids
Sparks curiosity and improves childs' imagination
Develops concentration
Once you realize how important it is to introduce children to books from an early age, all you'll want to do is buy them books. It's a bit overwhelming, isn't it? We've gathered a list of preschool books that you can read to your toddler based on recommendations from experts and child psychologists.
10 Preschool Books you can read to your toddler
Pete the Cat by Eric Litwin
Pete the Cat is a classic book for toddlers that tells about the misadventures of Pete, an animated cat. Books are a great motivator to invite children to participate in preschool activities. The stories of Pete the Cat teach children about colors, math, friendship, feelings, and a positive attitude.
The Red Lemon by Bob Staake
Red Lemon is one of the best books on the market for toddlers. It's a favorite book for many 4-year-olds and teaches children about similarities and differences. We think both you and your children would enjoy reading about Farmer McPhee's love for his yellow lemons and his distrust of the red lemon. We won't spoil any more, get the book and take a look at it yourself.
Sun Above and Blooms Below by Felicia Sanzari Chernesky
If you want to teach your children all about basic concepts, then we recommend starting with Sun Above and Blooms Below. It's also a great book to learn about farm animals and farm life in general.
I Can Be Anything! by Jerry Spinelli
I Can Be Anything is another hit for parents who want to teach their children about the endless possibilities of being. It's a great book to introduce you to your child's life when they start to think about what they can be in the future.
When I Was Little: A Four Year Old's Memoir of Her Youth by Jamie Lee Curtis
If you want to have a little giggle to yourself while reading a sweet story for your child, opt for Jamie's When I Was Little: A Four Year Old's Memoir of Her Youth. It's a hilarious story of how a little girl thinks back to her "younger years."
ABC I Like Me by Nancy Carlson
Slip in a little book in those nursery rhymes and ABC songs on YouTube. This book teaches children not only all 26 letters of the English alphabet but reinforces positive self-esteem.
Mouse's First Day of School by Lauren Thompson
The first day of school is a HUGE milestone for children. Whether it's the sadness of separation or fear of starting a new thing, children always need someone to be there to guide them through their first encounter with the school. Mouse's First Day of School is a perfect book to give your little one a sneak peek of school life.
The Three Billy Goats Gruff by Stephen Carpenter
You can never go wrong with fairytales, nursery rhymes, and folk tales. The Three Billy Goats Gruff is a traditional tale that has journeyed through time.
Bear Says Thanks by Karma Wilson
You can read Karma Wilson's work all you want, and you'll never feel dissatisfied, but we chose to go with Bear Says Thanks. It's a story of the celebration of friendship and family with colorful characters and playful text.
The Wartville Wizard by Don Madden
Last but not least, your bookshelf should have The Wartville Wizard. The story helps children comprehend the importance of the environment and helps them understand how to take care of our planet.
How to get ready for book-reading with your toddler?
Reading a book to your toddler can be a special time you spend together. So find a comfortable place and start by describing the book cover with your child.
Include these activities in your book-reading sessions:
Change your voice and expressions for different characters;
Trace the words you read and encourage your toddler to follow you;
Let them turn the pages to engage them in the process;
Make it an interactive process, and ask them what they think will happen next? Which character do they love the most? etc.
If you want to listen to stories together, you can always opt for educational apps for toddlers. Bebi Toddlers has a fairytale section, featuring classic kids' tales that you can listen to together or read yourself to your baby.
Children learn from their parents' examples. So make sure to inspire your kids to read themselves by showing them you practice reading as well. While your baby is admiring this new experience, you can read a book or two about understanding toddlers better. To help you out, we have an article on Books that Help You Understand Toddlers Better.
So go to your local library, take a look at online shops or have a walk to a bookstore and start introducing your children to books.