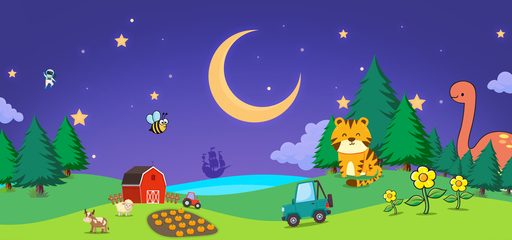 What's in app
Puzzles help kids learn basic concepts, improve physical skills, and learn problem-solving. And if that's not enough - puzzles are just fun!
Bebi Family puzzle games has 9 different worlds with various creatures and objects to explore:
Wild animals - here, your toddler will encounter various animals (lion, hippo, monkey, etc.) and try to guess them, build the puzzle, or color the outline
Vehicles to ride - kids will be able to identify vehicles and learn what sounds they make
Dino World - we think every kid likes exploring dinosaurs. Baby Puzzles' dino world is a great place to start.
Farm life - here we find cute farm animals and their puzzles
Yummy Food - this world features healthy food, such as watermelon, mushrooms, carrots, and so on.
Underwater World - isn't the underwater world fascinating? And especially for kids. Here your child will find different marine creatures.
Fun Toys - this world consists of random toys that your child can enjoy building in the form of puzzle games
Insect World - learn about various insects through fun games
Happy Flower - And last but not least, a little garden for your child to learn about various flowers and their names
This game has been developed and tested by childhood development experts, and we know what we mean when we say learning can be fun.
Safety and convenience. No supervision needed:
Parental Gate - Code protected sections so that your child doesn't accidentally change settings or make unwanted purchases;
Offline - playable without an internet connection;
Timely hints - so your child doesn't feel frustrated or lost in the app;
Ads free - no annoying interruptions.
Puzzles are not only colorful and fun activities; they help your child see the concept of the whole. Kids perfect shape and size recognition, patience, develop hand-eye coordination and improve visual-perceptual and memory skills.
Download and play Baby Puzzles together with your child. And if you and your toddler enjoy the app, share it with your friends or tell others about your experience - write a review.