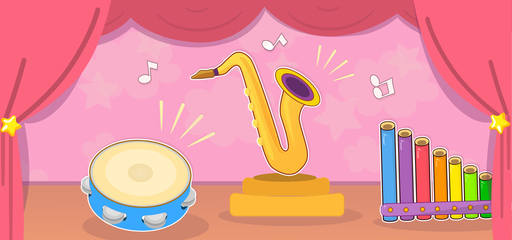 What's in app
Is your toddler showing interest in musical instruments? Then you might want to get the Bebi Music app for your baby.
It's a combination of the best musical instruments for kids around 1-4:
► Xylophone - It's one of the most recommended musical instruments by childhood development experts. It's easy, fun, and a great start to your toddlers' musical career
► Piano - Piano's always a great choice. Our one-octave piano will help your baby learn the basic notes
► Drums - Drums and other percussion instruments help kids to keep the rhythm and beat
► Saxophone - It's a little advanced musical instrument, but we're here to have fun and learn about music
► Pan Flute - It's a fun and easy to play instrument with the history and culture behind it. And if your baby enjoys playing Bebi Music pan flute, you can even make one at home
And don't forget about various sounds on our piano: animal sounds, vehicle sounds, and random sounds.
Studies have shown that musical experiences in early childhood development accelerate brain functions, language, and reading skills
It would also be nice to mention that early childhood experience with musical instruments helps kids learn the sounds and meanings of words. Not to mention that dancing and listening to music help the body and the mind work together.
Why should your toddler start learning music now?
► Musical instruments increase memory skills
► They teach kids to be patient and gives them a feeling of achievement and satisfaction
► Learning music improves listening skills which come in handy in adulthood life
Safety and convenience. No supervision needed:
► Parental Gate - Code protected sections so that your child doesn't accidentally change settings or make unwanted purchases;
► Offline - playable without an internet connection;
► Timely hints - so your child doesn't feel frustrated or lost in the app;
► Ads free - no annoying interruptions.