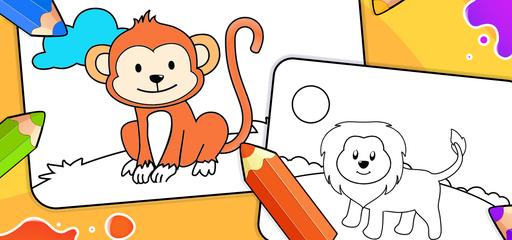 What's in app
Coloring and doodling is more than just a pleasant pastime for your child. It's a way to develop fine motor skills, improve creativity, and release emotions.
Bebi Family coloring app will help your child enter the world of creativity and fun through:
9 worlds and 81 coloring pages
A blank canvas - so your child can self-express and pour out creativity
Various stickers - to decorate paintings
Glow doodle - to create glittery masterpieces
Gallery - to keep the work of your little Michelangelo
Researches have shown that coloring books and painting can help release stress and emotions in kids and adults. Teachers and therapists in preschools use art therapy and coloring activities a lot.
The app has several painting tool options: A brush, pencil, crayon, pen, and stickers. Kids can change the size and color of the brushes without leaving the page.
Safety and convenience. No supervision needed:
Parental Gate - Code protected sections so that your child doesn't accidentally change settings or make unwanted purchases;
Offline - playable without an internet connection;
Timely hints - so your child doesn't feel frustrated or lost in the app;
Ads free - no annoying interruptions.
It's an engaging and productive activity for children and parents. But don't take our word for it.
A lot of parents report less scribbling over walls and furniture after downloading the coloring app. So kick back, relax, and let your baby create memorable things.
And if you guys enjoy the app, don't forget to leave a review and let other parents know how to engage their children in a fun and fruitful activity.