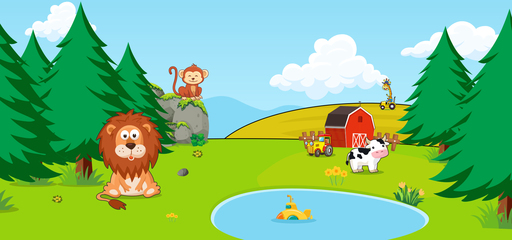 What's in app
Enter the world of cute animals, vehicles, letters, and numbers; Become a firefighter and save animals, serve dinner to kids at a dinner table, play music on drums, and more.
This collection of 15 mini-games will give your child a fun and exciting experience while teaching the basics of how to interact with the world.
Here's a little sneak peek of the app:
► Sort by size and shape
► Match objects by color
► Number puzzles
► Find animals and their food
► Store objects in the fridge, closet, etc.
► Toddler jigsaw puzzles
This app is a little collection of fun and educational games developed alongside childhood development experts.
Here's what to know about the games:
► Sort by size - match the objects of similar proportions and learn about the similarities in sizes
► Sort by the color - Learn about colors by matching ducks with basins by color, putting away toys in the matching baskets, etc.
► Sort by shape - your kid will be able to identify shapes and sizes with certain objects, toys, and musical instruments
► Sort by numbers - Count the kids at the table and serve them food that matches their numbers. This way your kid will learn about numbers and get a head start on learning how to count
► Feed the animals - learn what foods farm or wild animals eat
► Find the animals - Learn animal names while rescuing them with a fire truck
► Sort objects - learn about what animals belong in the wild and what - on the farm; store clothes in the closet and food in the fridge to learn how to tidy up the house
► Baby Puzzles - identify the animals, learn their names while building puzzles
We also made sure to give timely hints so your child won't get bored if the task is a little bit tough for them.
What else? Pleasant music, happy voices, colorful characters, and various activities create a fun and comfortable environment for your toddler.