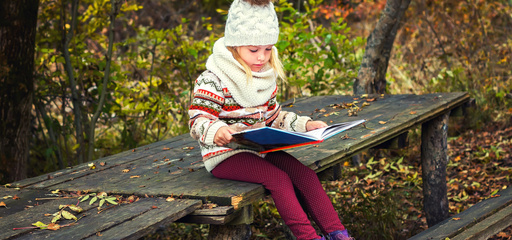 7 Fall books to introduce your toddler to changing seasons
Do you remember your first fall? What was it like seeing the first red or yellow leaf?
Fall is an enchanting season for many of us, especially for children. If this is your toddlers' first time seeing falling leaves and smelling cinnamon in the air, we recommend cozying up and reading fall classics for children.
Here we have gathered a list of classic fall books for toddlers and preschoolers to help you guide your children through the seasonal changes.
These books tell beautiful stories of falling leaves, challenges of change and growth, adventurous characters, and more.
So dive in and add new books to your reading time.
"We're going on a leaf hunt" is a classic fall read for toddlers and preschoolers. The book tells about three friends on a leaf-finding adventure. They hike around the mountain, collect countless colorful leaves and sing songs along the way.
How does the story end? Friends have to decide what to do with their collection of leaves. It doesn't take too long for them to decide to jump around and play in them.
It's an easy read for your baby's reading time or even bedtime. The author included popular songs that get the kids moving, singing, and chanting.
Leaf Man by By Lois Ehlert
What makes fall stand out from other seasons? Is it the smell of cinnamon in the air? Is it the trick-or-treaters knocking on the doors? Or maybe it's the apple-picking and hayrides?
We all have a lot of fun with these fall activities, but for many of us, especially children, falling leaves are the most fascinating sight.
You'll find a bunch of "leaf books" in this list, but "Leaf man" is one of the most delightful books to come across. It tells a story of a leaf man that follows the flow and goes with the wind to his next adventure.
Collages with real autumn leaves from various places make this book further stand out. It can help children learn more about the anatomy of leaves, and you can even make your own leaf man at home.
Trust us when we tell you your kids will ask you to read "Leaf Man" time and again.
"Mouse's First Fall" is part of book series called "Mouse's First Day." You may already be familiar with this series, but we couldn't leave this book out.
The book perfectly describes what it feels like to encounter a new season. Mouse carefully observes the colorful, falling leaves. Our character travels around the forest, counting, identifying colors and shapes, and leaving readers in suspense as to what will happen next.
While the story is simple to follow, the author includes beautiful, descriptive words that help your toddler enhance their vocabulary. Teachers and parents love reading this book to preschoolers, and we think you'll love it too.
This book is perfect for a bit of extended reading time at home or in the classroom. The story has an "old feel" to it since it was published in the 90s and has been a classic fall read for over 20 years.
Your toddler will dive deep into the story of Rebecca Estelle, a farmer who never loved pumpkins and accidentally grew a sea of them in her yard. Rebecca tries and fights with the growth of pumpkins, but finally realizes that even if she doesn't like them, she might be able to make other people happy with her harvest.
It's a wonderful story of acceptance, illustrated with colorful panels and characters.
Because of an Acorn by By Lola M. Schaefer and Adam Schaefer
If you want to read an educational and loving story to your children, "Because of an Acorn" is an excellent choice.
"Because of an acorn, a tree will grow, a bird will make a nest, and a seed will become a flower." Here's how the book illustrates the circle of life and highlights how the ecosystem is symbiotic. And how different parts of the ecosystem work together to create something much bigger than an acorn.
It's an excellent bedtime story for your toddler that will ensure they go to sleep listening to a captivating story and looking at cozy illustrations.
"Little Tree" is a masterpiece that teaches children the importance of changes and growing up. It's human nature to be afraid of changes, and children especially need to understand why it's vital to go with the flow, grow up, and become delightful beings.
The story circles around a little tree that loves his life and likes everything exactly as they are. Seasons change, and with the cold winds, his beloved leaves start to change. He desperately clings to the falling leaves, not wanting to change. Years go by, and the tree remains unchanged, while the surrounding trees have grown and are standing tall and strong.
The time comes for the little tree to make an important decision and let go of his fears of the change.
Loren Long perfectly describes the challenges around our fear of letting go in a heartwarming story with colorful illustrations that your children will love.
Last but not least, we want to talk about the book about a bear family that visits England in the fall. They travel around and do fun fall activities as a family.
It's a perfect book to introduce your kid to fall in its' glory.
This curious family of bears play classic games and take hayrides; they go trick-or-treating while perfectly disguised and gathering all the candy they can; and finally, they have a wonderous Thanksgiving dinner for all the friends in the forest.
These bears know how to have fun and go on adventurous trips as a family. It's another perfect story for bedtime that you can incorporate into your toddlers' routine.

Of course, this isn't the complete list of all the wonderful fall stories for children, but what you'll find here is the collection of some of the best fall reads you can try this autumn.
While the fun outside in fall is still very much available and accessible, you can create a cozy environment at home, sit down with a hot cocoa and read these books to your babies.