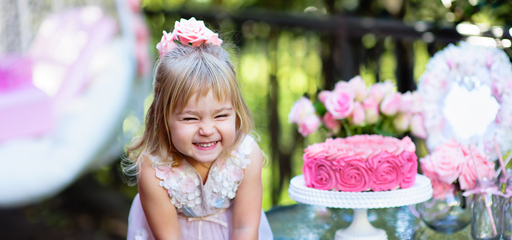 Birthday Party Ideas for Toddlers
Can you recall your fondest childhood memory? Was it the time your parents took you on a hot-air balloon ride or the time you got your first puppy?
A lot of happy rememberings include memories about birthdays and celebrations. So it's no wonder you might be thinking about a particular birthday party you had as a child.
But did you know that the birthday's purpose isn't only to have fun, blow out the candles and eat the cake?
Here's a thought; try to recall the smell of the cake you had at your party? What music was playing, and how did you feel?
A study of preschool memories, conducted by Antonio L. Manzanero at the University of Madrid, says that childhood memories form from a collection of data (sensations, smells, music, mood, etc.). So exciting birthday parties can create core memories and build something meaningful in children's lives.
Research also shows that birthday celebrations influence children's cognitive development and improve self-perception and confidence.
Yet another reason to throw a fun and exciting party for your baby.
And just so you don't spend time thinking about exciting party ideas, we've gathered some of the parties you can throw for your child's upcoming birthday.
Here are 10 budget-friendly ideas for your toddlers' birthday party
Outdoor Party Ideas
Summer birthdays are the best; so if it's warm outside and you have a backyard or can throw a party in the park, be sure to plan these activities:
Organize outdoor gameplay for your toddler and their friends
Musical statues, pass the ball, and duck duck goose, always gets the children moving. Make sure to add games that help children interact with each other. This will help your toddler socialize more, make friends, and boost their self-confidence.
Rent a bubble machine or blow soap bubbles yourself
You can never go wrong with the bubble-catching game at a toddler's party. Children are always excited to blow, catch and play with bubbles. You may not even need another form of entertainment once you turn on the bubble machine.
And as a perk, you'll get to take a lot of beautiful photos of your toddler running after bubbles.
Throw a backyard carnival
Children love carnivals and all their perks. Set up a face-painting station (maybe another parent can participate), invite a clown, and set up photo booths and water balloon stations; don't forget about a food tent and traditional carnival games.
If you need inspiration and ideas, you can read this amazing article from Martha Stuart's blog about how to throw a kid's carnival party.
Set up a finger-painting station
Finger-painting is especially fun outdoors because of all the inspiration children can get from the surroundings. And don't forget about the mess you won't have to clean up in the house.
Read all about the preparation for finger-painting for preschoolers, and have fun choosing which painting to hang on the wall.
Organize a scavenger hunt for toddlers
Kids love scavenger hunts because it creates a sense of adventure and connection. Arrange a scavenger hunt with clues to find birthday favors, candy, and other goodies.
Indoor Party Ideas
If you decide to have a quiet, indoor party, you can never go wrong with these ideas:
Have a tea party
Children love to pretend play, and there's something about sipping imaginary tea with plush toys.
Throw a tea party for your baby and their friends. Guests can come with plus ones (their favorite toys and dolls), all dressed-up and ready for a classy toddler party.
Don't forget to get fancy teacups and fruit tea.
Create a puppet show and get some popcorn for the kids
Storytelling is a powerful element that keeps children's attention engaged. You can throw a sock-puppet show, buy real puppets or make them yourself, so long as the story is engaging, exciting, and fun to watch.
Throw a small party with the family members
Birthday celebrations don't need to be spectacular and loud. You can throw a nice, quiet party with just you and your partner and child(ren).
Make sure to have all the birthday supplies, cake, and candles. Studies show that children associate growth with birthday parties, and blowing out candles is an important milestone.
A study, conducted by Dr.Woolley, included several 2-year-olds who were about to turn 3. The first group was able to have a birthday party; The second group couldn't have a birthday party, and the third group had a two-party birthday party.
When asked to children, how old they were, the first group would mostly say they were 3 years old; the second group mostly said that they were 2 years old, and the third group mostly thought they were 4 years old.
So, a little celebration with cake, loving family members, and candles is all your baby might need.
Create a video and mobile game arcade
Children love arcades and the prizes they win. Build a small arcade in your toddler's playroom with devices you and other parents might have.
You can download mobile games for toddlers from the App Store or Google Play; just make sure to find the most fun and educational games for toddlers.
Create a little puzzle-building party
Puzzles aren't only engaging and fun, they also boost children's fine motor and concentration skills. Start with 20-piece puzzles and move up so kids won't get bored.
If you're in for a good experiment, throw a puzzle hunt for your child and their guests. A puzzle hunt is a treasure hunt, but instead of looking for goodies or treasure, kids will be looking for oversized puzzle pieces to assemble the picture and win a prize.
Those are the party ideas you can use for your toddlers' next birthday. Make sure to plan everything through and keep a backup list of games, in case you run out of activities.
If you're struggling with time or energy, you can use a party idea generator and plan a birthday with a little bit of help.
Don't forget to take a lot of photos and let us know, which idea you like the most.